We've done thousands of events annually for nearly 30 years. We've learned a few things along the way about design, layout, execution, and budgeting, and we've brought all that knowledge together into this one guidebook. It walks you step-by-step through the planning process—before, during, and after your occasion. If you're an event professional, you'll reach for it as often as your coffee cup. If you're a first-time party planner, you'll find all the tips and tricks you need to work like a pro. Either way, our guide helps make sure you cover all the bases and avoid the pitfalls that can lead to last-minute changes, extra costs, and added stress.
Staging can provide an important focal point at any event, whether it's for a wedding, gala band, auction, fashion show, or presentation. With modular stage pieces to work with, Bright Event Rentals can not only manage a multitude of sizes and heights, but also provide rounded and corner stage sections to meet your staging needs and maximize the available room space.
Every cocktail party needs a well-equipped bar. Make sure yours includes the following items: cocktail shaker, bottle opener, corkscrew, water pitcher, ice cubes, ice bucket, small knife, garnishes for drinks (lemons, limes, cherries, olives, onions), and cocktail napkins.
Glasses
Although highball and old-fashioned glasses have traditionally been the most popular, recent trends indicate the use of more modern and attractive glassware, such as our line of designer cocktail glasses. It is smart to allow one to two glasses per guest.
Liquor
Plan on serving approximately two drinks per guest, per hour of your event. One quart of liquor makes 21 to 28 drinks. While taste preferences vary, the most popular and commonly used liquors today are vodka, tequila, gin, scotch, whiskey, bourbon, and rum.
Wine and Champagne
A case of wine or champagne contains 12 bottles, each of which serves four to six glasses, depending on the size of the pour. That means one case can serve 48 to 72 guests.
Punch
One gallon of punch serves approximately 24 people, based on servings of two to three ounces.
Coffee
One pound of coffee yields approximately 60 cups. Be sure to have cream and sugar available.
*Note that these figures are approximations. Consider your guests, their tastes and the weather to help determine your specific beverage needs.
An essential element of any great meal is creating the perfect partnership between wine and food. There are endless possibilities. Here are a few suggestions that will help you start planning the menu for your event.
Sparkling Wine/Champagne
Smoked Salmon, Halibut, Ahi Tuna, Prawns, Calamari, Quail, Many Cheeses and Desserts
Riesling
Sea Bass, Snapper, Trout, Scallops, Crab, Pheasant, Turkey, Quail, Sausage
Sauvignon Blanc
Halibut, Ahi Tuna, Mussels, Clams, Oysters, Caviar, Prawns, Chicken
Merlot
Pork, Beef, Veal, Rabbit, Quail, Pheasant, Pastas
Syrah
Beef, Duck, Venison, Pate, Rabbit, Squab, Chicken, Duck
Pinot Noir
Salmon, Quail, Tuna, Squab, Pheasant, Chicken, Veal, Lamb, Pork, Venison, Roast Duck, Wild Mushrooms
Zinfandel
Squab, Game Hen, Venison, Chicken, Pork, Veal, Swordfish, Beef, Lamb
Cabernet Sauvignon
Beef, Venison, Goose, Duck, Lamb, Squab, Veal, Pork
Chardonnay
Swordfish, Salmon, Crab, Prawns, Scallops, Escargot, Lobster, Rabbit, Chicken, Quail, Game Hen, Sweetbreads
Here is how to make an appropriate toast:
Know what you are going to say.
Practice ahead of time.
Make sure everyone has a filled glass.
Stand and face the person or people you are toasting.
Raise your glass.
Say your toast and look at the recipient(s).
Wave your glass to all and tip or clink glasses with the recipient(s) if close enough.
Take a sip and sit down. Remember to practice, practice, practice. If you goof up, just laugh and keep going.
To decide whether a formal or casual table setting is appropriate, start by determining how many people will be seated and what type of menu you want to serve.
Take inventory of dinnerware, flatware, and stemware to make sure you have enough to complete your table setting. It is a good idea to anticipate five to ten percent more than your actual number of guests. This overage allows for late additions to your party as well as accidental breakage.
Make sure that you have all the necessary serving pieces. Consider large platters and bowls, serving forks, spoons, and knives, a sugar and creamer set for coffee and tea service, and a set of salt and pepper shakers for every table.
If possible, set up the table(s) a day in advance to ensure that the theme and color scheme come together and no essentials are missing.
If you are not renting table linens, be sure to press yours ahead of time so they are wrinkle-free for the day of your event.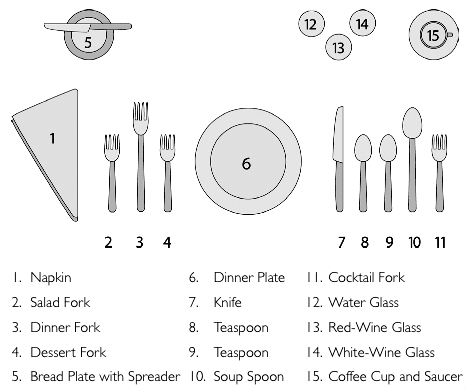 Everyone loves to feel special. Here are some ideas that can help you add personal touches that will leave your guests feeling like you took the time to create an excellent occasion just for them:
Send invitations out four to six weeks in advance. They are appropriate for any event, from a casual dinner to a formal affair.
Choose a selection of music ahead of time that will enhance the mood of your party.
Use place cards to enhance the table decor. They help eliminate confusion among your guests while adding a personal touch to your table setting.
Dress up your table with linens. Consider using colors and textures for a casual affair, and classic white or ivory for a more elegant and formal dinner.
Use a centerpiece to give the table a focal point. You can use flowers, seasonal fruits, and, of course, candles. Be sure that your centerpiece is not too large or obtrusive. You do not want it to interfere with your guests' view or ability to converse with each other at the table.
Add a fragrant accent by setting individual flower arrangements at each place.
Lay a small, inexpensive gift at each place setting to provide a pleasant surprise for your guests and set the tone for an enjoyable and memorable celebration.