Posted 9/6/2023 by Bright Event Rentals.
Bright Event Rentals – Bright Event Rentals acquires Texas-based Peerless Tents & Events
Los Angeles, CA, September 6, 2023 – Bright Event Rentals ("Bright") has announced the acquisition of Texas-based Peerless Events & Tents ("Peerless") with locations in Austin, Dallas, Houston, and San Antonio.
Bright, with warehouses and showrooms throughout California and Arizona, is expanding to take advantage of the dynamic Texas event market. "Over the last 10 years, we have worked to build the nation's leading special event rental company, distinguished by quality, service, safety, and innovation. The opportunity to expand to a growing and vibrant Texas event market was a logical next step for the Bright Team," said Mike Bjornstad, Bright's President & CEO.
"I've always had tremendous respect for the Bright team and the way they operate. I couldn't be more excited to find a partner that appreciates the significance of values and a strong culture as much as we do. With our deep experience in tenting and Bright's expertise in tabletop, kitchen & catering, and event furnishings, I am confident our clients will be thrilled with the expanded rental offerings and continued top notch service we provide," said Will Wright, Peerless CEO.
"Bright has grown as a result of continued investment in people, assets, innovation, and industry leading processes and safety programs. Peerless' culture and operations fit very nicely with Bright's. We are very excited for the trajectory this creates," said Bjornstad. "We will continue to build Peerless' marketing leading tenting capabilities and widely expand full service offerings."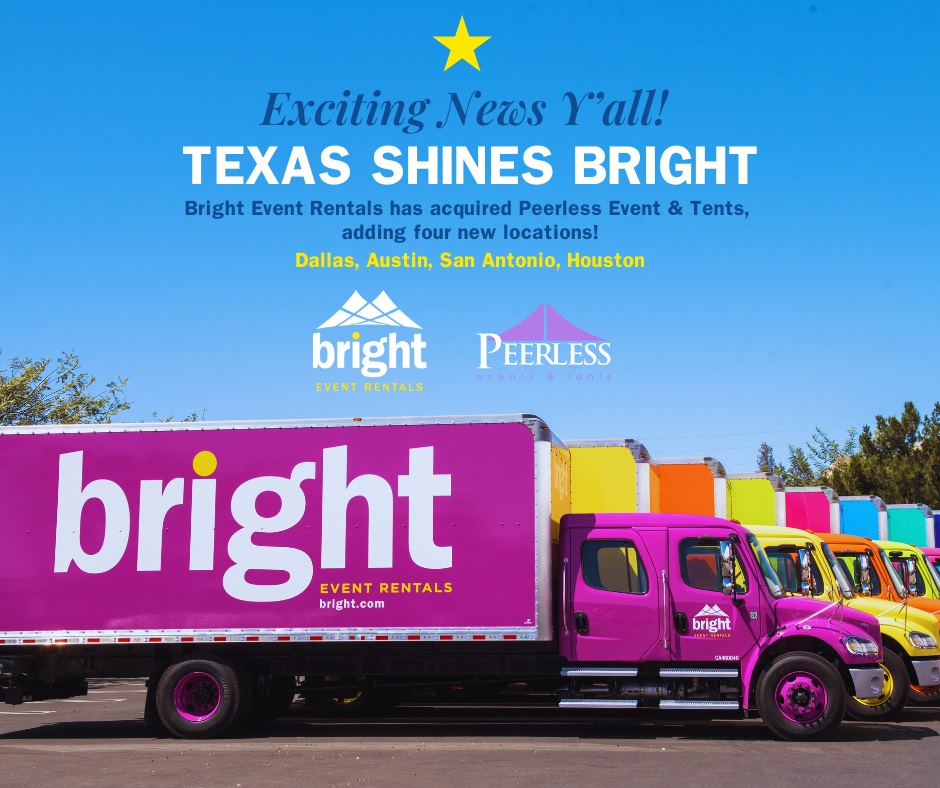 About Bright Event Rentals
Bright Event Rentals ("Bright") was started in Northern California by an experienced group of event professionals in 2013. Today, Bright serves the finest events throughout California and Arizona with locations in Sonoma, San Francisco, Santa Barbara, Los Angeles, San Diego, Palm Springs, and Phoenix; and showrooms in Healdsburg, St. Helena, West Los Angeles, and Orange County. Bright Event Rentals provides innovative, high quality special event rental equipment, and service to the finest professionally executed events creating indelible experiences for clients and event attendees. We value fairness, teamwork, integrity, and safety. We do what we say we will, we do it on time, we do it right, and we do it with style.
About Peerless Events & Tents
Peerless Events & Tents is Texas's fastest growing event rental company. Clients range from the Dallas Cowboys and Dillard's Department Stores to countless satisfied brides and backyard revelers. With locations and inventory in Austin, Dallas, Houston, and San Antonio, thousands of customers choose Peerless every year for its tenting expertise, assortment of tabletop offerings and superb customer service.
For more information, please contact Mary Noble at 707.704.7514 or mary@bright.com
See more at www.bright.com